The two main raw materials are seawater and limestone (Calcium Carbonate, CaCO3).  There is also significant energy input into the process in the form of Natural Gas, Petroleum Coke and Electricity.
Seawater contains approximately 3.5% dissolved salts, of which about 0.5% are soluble Magnesium Chloride (MgCl2) and Magnesium Sulphate (MgSO4) salts.  Approximately 500 Tonnes of seawater are required to produce 1 Tonne of Magnesium Oxide (MgO).
Seawater is pumped twice a day at high tide from the estuary of the River Boyne to a large reservoir located 5km from the factory.  Seawater is pumped from the reservoir to the factory where it is degassed to remove hardness before going to the reactor.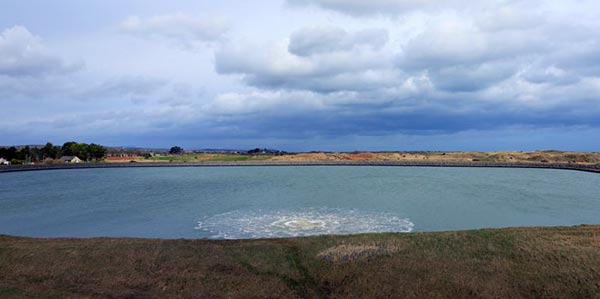 High purity Limestone comes from local quarries, located about 8km southwest of the plant.  The limestone is crushed, graded and transported to the production plant.